See on Scoop.it – Wearable Art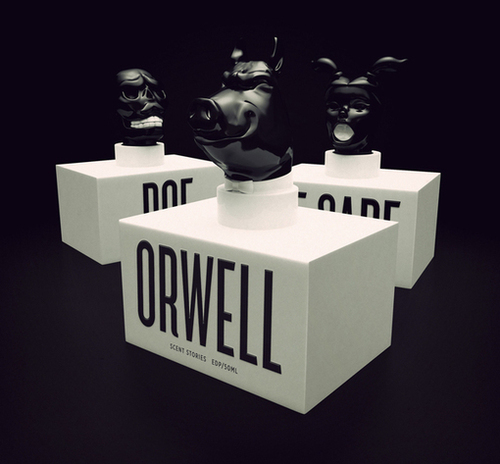 Magda Kaleh and Kamil Jerzykowski, the duo behind Ah & Oh Studio in western Poland, are big on multitasking as they explain on their website:
"So…what exactly do we do? To put it simply, we observe, analyse and develop ideas we find heartmelting. Then we do our best to apply them to our projects. We mainly deal with graphic design, package design, visual communication, identity, branding and illustration." 
Their whimsical site details the variety of creative projects they have undertaken, one of which is called "Scent Stories" – the realization of their self-declared "dream project" of perfume concept and packaging. The resulting concept bottles for a men's fragrance line is unique in its inspiration, "the great, dark literature and distinctive, strong characters."
They found their matches – and the names of their imagined scents – in Orwell, Poe, De Sade, and Laclos, and paired stark white bottles with severe black lettering and character heads that recall the work of each author. The reverse side of each bottle takes a standout line from that work and turns it into the tagline of the product; for example, "…Ambition, cruelty, avarice, revenge, are all founded ON LUST" comes to be the story behind De Sade's scent.
As of yet, these bottles are merely a concept line, without the accompanying scents, though, so in order to get a sense of the accuracy of Kaleh and Jerzykowski's characterizations, you'll still have to hit the books.
See on ahandoh.com