See on Scoop.it – Art Outdoors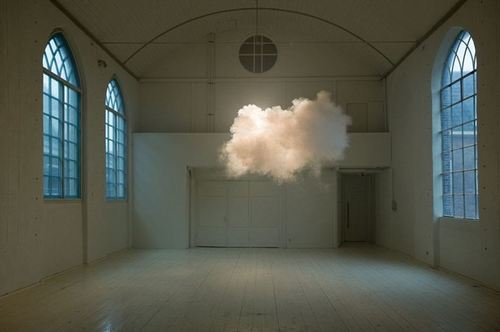 The print in this image, "Nimbus II 2012, cloud in room" by Dutch artist Berndnaut Smilde, is the only proof that this cloud ever existed. Using a smoke machine, the moisture of the indoor space, and the effects of light, Smilde has been creating clouds inside like this since 2010. The clouds exist for just few short moments before dissipating, as this art of bringing the outdoors in can allow for only the briefest period of inversion.
This beautiful concept of transient coexistence reminds us of the original poem "Room Full of Air" by Shane Lake, which was published by LitCouture in June 2010:
Room Full of Air
She keeps a secret room lined with glass jars
trapping the air of the world, hundreds of them
sealed & labeled with black letters across a strip of masking tape.
Air Above Central Park Skating Rink.
English Football Match Air from the Stadium of Light.
American Civil War Air, with hint of gunpowder.
Each day she selects one jar, carefully
twists loose the lid, presses her clean skinny lips
over the small open space & inhales, the air
filling her body, humming just above the wrinkles
in her feet, carrying her to each exact moment
the air was captured as if it were painted
on the backs of the shades, pulled
over her like a hallucination.
A beaten man clinging to a wooden plank
somewhere off the Philippines, South China Sea Air.
Little chips of white speckling the ice fields, Antarctic Circle Air.
Her mother's right hand reaching as she falls backward
into a pool fully clothed, the sound of teenage laughter
sticking to humidity, 14th Birthday Air with blue dress.
She exhales back into the jar & knows
one day the air will be the only thing left,
knows the air is still older than our oldest thought,
the way it is everywhere at once, both heavy & light,
resting in the eaves, blowing ashes into our eyes,
tucking her in until she knows the prize
of her collection, a jar labeled Air From This Room.
Shane Lake was born and raised in Mattapoisett, MA. He is currently pursuing an MFA in poetry at Arizona State University. His work has also appeared in Narrative Magazine.