See on Scoop.it – Art Outdoors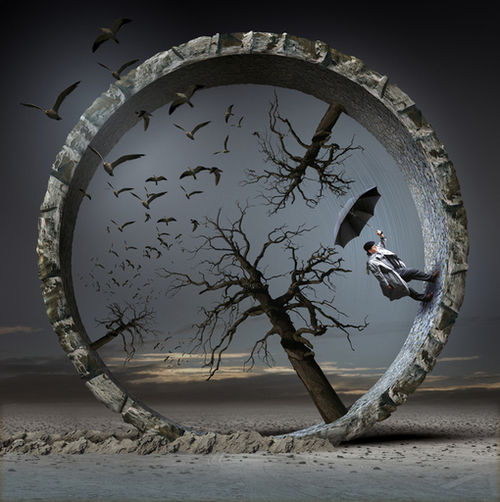 Polish illustrator Igor Morski creates incredible, visually stimulating surrealist pieces that strike viewers for their detail, depth, and unique ability to present what have the potential to be various rich plotlines, all wrapped into one unified image. The featured print evokes a sense of confusion and pain, recalling the darkly vivid imagery of the original poem "Head Injury" by Christopher Michel, which was published on LitCouture in May 2012:
Head Injury
          outside the Ascended Masters Temple, 198
I wake to a blue void
flecked with birds, clouds
smeared like spackle. My mouth
tastes metal. Cicadas somewhere
make strange rising noises, the
grubs, anchored in shade,
split along their backs. Grass
clippings prick my skin. My head
sticky with blood, I smell mildew,
willow tree pollen, tar. I sit up
at the far end of the parking lot
outside my father's church
as chanting bursts from open
windows. His voice is in there
but I can't pick it out. Cicadas.
My head throbs. I hear the sounds
they sing to make their hearts
split open, to let the light inside.
Christopher Michel has an MFA from Syracuse University, and he received a Fulbright in 2006 to translate poetry from the Republic of Georgia. His work has been published, among other places, in Anatomy & Etymology as well as Free Lunch, where it was nominated for a Pushcart prize. He currently lives in Brooklyn's secret Chinatown, as a stay-at-home dad.