See on Scoop.it – The Art of Everyday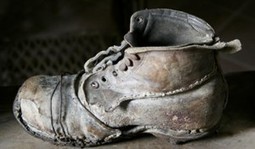 The objects on display in "Museum", a recently opened New York gallery, are not in any way adapted to obtain an artistic status. Rather the opposite, in fact. These objects, personal and professional, boring and bizarre, are displayed with all the decorum that would be given to a fine art exhibition. They remain unaltered from their original state, and are accompanied by a story detailing their "lives" and how they came to be there.
As advertised on its website, Museum's "Current exhibitions include toothpaste from around the world, found paper works from various copying machines, personal possessions from the bottom of the sea, misspelled food labels, hand modified watches, newspaper weights, and more". The toothpaste display referenced is running for another three days (through June 30, 2012) and is quite extensive, featuring twenty tubes from locations throughout the globe on loan from the collection of Tucker Viemeister.
Museum was founded by Benny and Josh Safdie and Alex Kalman earlier this year. Its focus on "objects, those small, forgotten and often overlooked treasures that have a lot to say about society, the world and its history" is mirrored by its intriguing location: it occupies what was formerly a freight elevator in the back alley of a Broadway paper warehouse.
In Italy, the Museo del Quotidiano (Museum of the Everyday) serves a similar aim. Inspired by teacher and collector Ettore Guatelli, the emphasis of the Museo is on items of past generations, especially those of more rural times. Hammers, shovels, barrels, and other objects that were used day in and day out and over time came to form a very inseparable part of the people who worked with them are laid out for public viewing; but here,"they are not displayed according to a traditional teaching standard, with reconstructed interiors and pedantic explanations; on the contrary, they fill the walls with simple geometric patterns that seem to be inspired by the avant-garde artistic movements of the twentieth century."
See on www.slowear.com
The concept behind these exhibits reminds us a bit of Nobel Prize winner, Orhan Pamuk's magnificent, Proustian masterpiece, The Museum of Innocence. In the novel, Turkish playboy, Kemal becomes a compulsive collector of everyday objects that chronicle his doomed love affair with Fusun, a beautiful but poor shopgirl and distant relation.
In this spirit of everydayness, check out Pui Ying Wong's memorable poem which was originally published in LitCouture on July 5, 2010:
AT CRATE & BARREL
We trek deeper and deeper inside the store,

reaching for the faraway world.
Here's the salad bowl,

made of Indonesian mango wood,

stained with the tropical moon.
There's a set of placemats,

made of sea grasses from the Philippine coast,

woven by women who live in thatched houses.
Glass wares that satisfy every desire,

the elegant platter, candy dish and gravy bowl, hand blown

by artisans with strong lungs and nimble fingers.
Polish crystals, Finnish textiles, the world beckons.

Can't we love them all?
These days it takes more and more

to feed our hungry house.
Pui Ying Wong is a native of Hong Kong and is bilingual in English and Chinese. She is the author of two chapbooks: Mementos (Finishing Line Press, 2007), Sonnet for a New Country (Pudding House Press, 2008). Her poems have appeared in The Asian Pacific American Journal, Blue Fifth Review, Chiron Review, DMQ Review, 5 AM, New York Quarterly, Poetz. She has been nominated twice for the Pushcart Prize. An interview with her at Southern Bookman can be read at www.louismayeux.typepad.com Yellow Plum Season, her full length book of poems was published last year by New York Quarterly Press.