See on Scoop.it – Literature & Poetry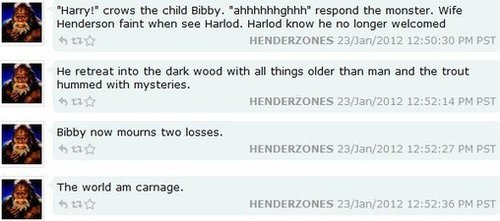 1,046 tweets compose the story of fictional Harlod, shared with Twitter followers of @Henderzones in regular 140-character plot bites from January to June 2012 in the most extravagant internet literary epic to date. Crafted by LA-based web-designer Cameron McBride, the tale continues the story of the Bigfoot family from the 1987 film "Harry and the Hendersons" from the perspective of an unnamed narrator suffering from a head injury that causes him to type in mangled English.
Humor, character development, and tragedy were all critical parts of the writing process behind McBride's Henderzones endeavor. "In one "chapter," Harlod hears movement in the basement of the Henderson home, and his protective instincts kick in. The intruder turns out to be an inspector from the gas company, but by the time the poor guy asserts his innocence, Harlod has already unleashed his unstoppable violence: "Harlod removal of the mans arms which he use to beat the man to quiet repose of eternal slumber," the narrator explains. Later, after Harlod leaves the Hendersons—or what's left of them, in the wake of his rampages—behind, he squares off against an antagonist (the mysterious "Grey Man," who captures the beast for nefarious purposes) and hooks up with a sprightly gang of benevolent forest creatures, at which point the tale's tone pivots from nightmare bleakness to guarded optimism. When the tweeted parts come together as a novelistic whole, the result is a complete—and surprisingly profound—work of gonzo comic fiction," reports Brian Wolowitz of Mother Board.
McBride is not alone in his capitalization of Twitter as a medium for narration. Dan Sinker, a Chicago professor of journalism, has also used the site to web a Twitter tale about a fake Rahm Emanuel, and Pulitzer Prize winning novelist Jennifer Egan recently published a short story through several tweet installments.
Serial stories such as this can be created using Chirpstory, a site that provides a Twitter version of content curation aimed at the creation of story. Chirpstory loads the tweets from your feed and selected hashtags, and from there you can drag and drop them into your story timeline. You can personalize the timeline by adding photos, videos, and other media, as well as decorate the tweets themselves using a variety of colors and fonts, before sharing the story timeline through embedding in other social media sites.
See on newdigitalstorytelling.net