See on Scoop.it – Literature & Poetry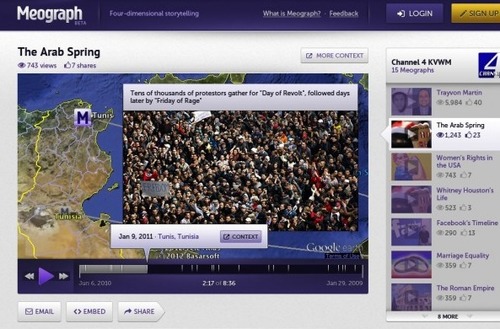 Meograph, a new digital storytelling tool released in beta on July 23, takes its name from its two key components: media and infographics. The concept, a hybrid of the Facebook Timeline, Google maps, photo albums, and sound files, sprung from the personal experiences of founder and CEO Misha Leybovich with multimedia storytelling and his resulting itch to improve upon those platforms and capitalize on their interactive potential.
As he told SocialTimes, the inspiration behind Meograph was threefold: "1) When I was 8, I read a book called Flatland and have been thinking about how to visualize space and time together ever since! 2) At my last job as a strategy consultant I became an expert at pairing data visualization and storytelling. 3) Over the past 7 years I've traveled to 70 countries and couldn't find any way I liked to visualize my adventures. All those came together into Meograph, and once I started talking to my friends about it, the other applications (journalism, education, biography, etc.) became very clear."
Meograph takes the Timeline concept to the next level. Users are prompted to identify important "moments" and flesh them out by providing information as to the what, where, and when of each. In addition to textual and photographic captioning, they can add audio narration, video clips, and hyperlinks to enhance personal experiences with outside perspectives. All of these media sources are set against the backdrop of a moving Google map or Google Earth street-level view matched to the event location. It's an experience in 4-dimensional memory — a digital slideshow of your life, albeit a version that can be rewinded and fast-forwarded as desired.
Meographs can be embedded, shared, and interacted with using Facebook, Twitter, Google+, Pinterest, Reddit, Tumblr and personal blogs, and viewers are transported from moment to moment with a simple click of the play button.
Users can try out the platform and view a demo of how it all works on the Meograph site. As it is currently in beta, however, potential testers must submit their email addresses to be granted an invite to do more than that at this point. Behind the scenes, Leybovich and his team have been working to fix glitches and improve the functionality of the platform. At present, Meograph operates best with Google Chrome, and Firefox users may experience inconsistencies with audio playback. In a month's time, Meograph plans to introduce a new graphical authoring tool that will make file uploading more intuitive. Continuing to integrate the platform with social media networks so users can easily interact with their personal data throughout the Meograph creation process is also a top priority.